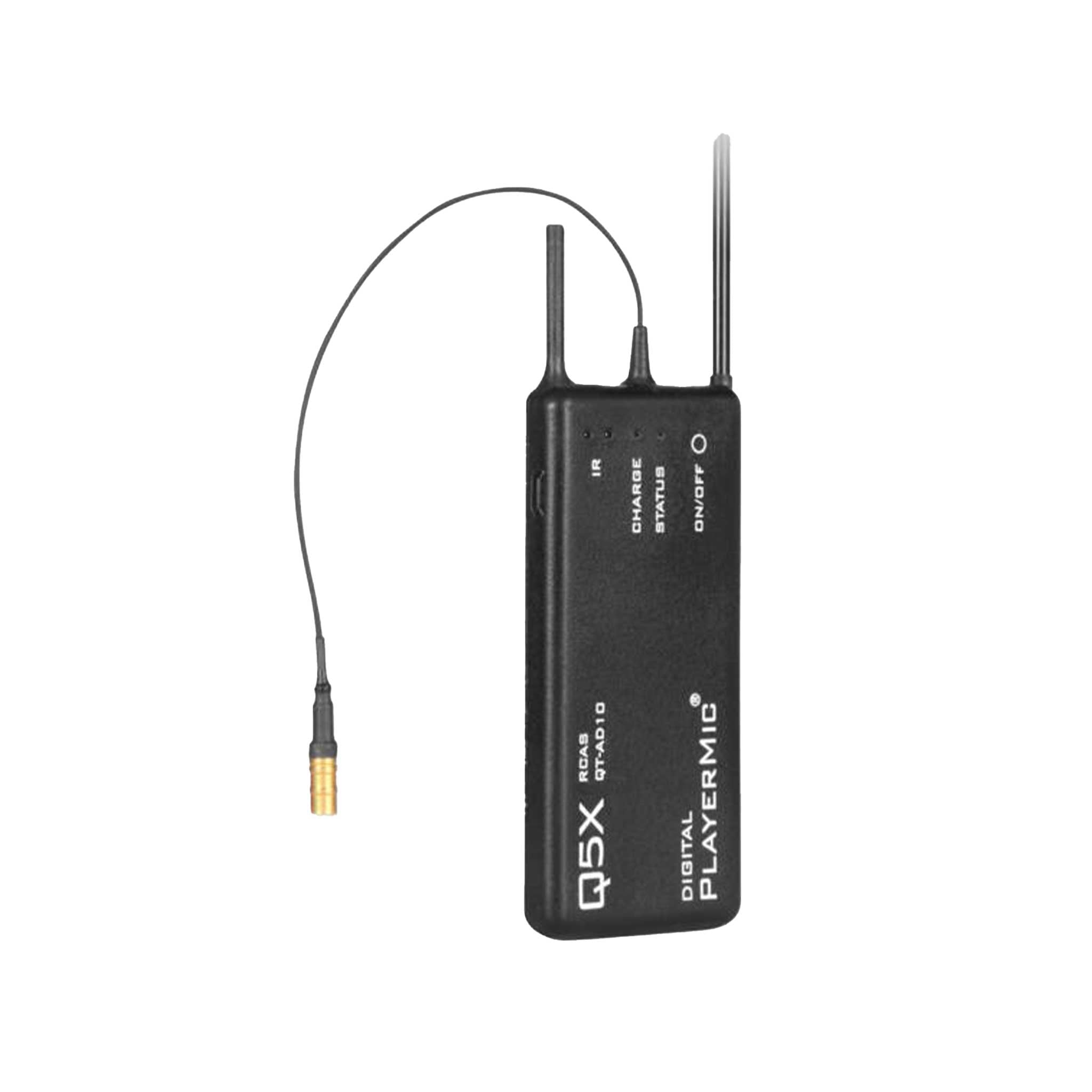 Shure Q5X PlayerMic QTAD10P
---
Nearly indestructible. Bendable. Extremely concealable. PlayerMic was developed by Q5X for the NBA as the world's first flexible rubber bodypack and is equally at home in all sports and entertainment arenas. Combine it with Axient Digital wireless receivers to get superior digital transmission with advanced encryption and spectrum efficiency. Available in two versions: Regular and Short
Details
• For use with Axient Digital wireless receivers
• Two versions: Regular (8-hr run time @ 10mW) and Short (4-hr run time @ 10mW)
• Flexible and concealable, thin, polymer, water-resistant case that is easily sanitized
• Encryption-enabled, secure transmission
• Internal, lithium-ion rechargeable battery
• Single-pin LEMO connector (requires single-pin LEMO connector, available through Q5X)
• 2mW, 10mW, and 20mW RF output power (user selectable)
• RCAS™ MicCommander provides essential remote handheld operation, management, and monitoring (sold separately)
Hear and feel the action without anyone ever seeing how you captured it. PlayerMic's unique one-piece, thin, rubber design protects players from injury should they fall on it or take a direct hit and is extraordinarily concealable. This version of the Q5X PlayerMic bodypack transmitter has been codeveloped with Shure to be compatible with Axient Digital wireless receivers for best-in-class digital wireless transmission.
Note: All essential setup, management, and monitoring are coordinated through the Q5X MicCommander™ handheld remote control and necessary for operation (sold separately).
Distributed by Shure, PlayerMic is a Q5X product. For support and service, please visit www.q5x.com.